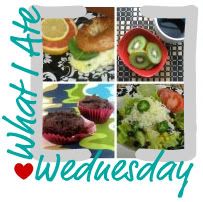 good evening! just popping in to post for wiaw :) now that mofo is over i will probably not post quite so much. i'm most comfy posting 3-4 times a week. hope ya'll don't mind ;)
breakfast:
tofu scramble with mushrooms and kale, tomatoes on the side and a slice of toast.
lunch-ish:
pumpkin pie smootheh
snack:
cucumber, tomatoes and crackers with hummus. it has become a favorite of hannah and i.
dinner:
a cheezy quesadilla.....
with tomato soup. i made this over the summer and froze it. i grew a bajillion tomatoes this summer and i miss having them at hand!
dessert:
a few of these throughout the day. they are peanut butter filled "caramels." i made them on halloween and they turned out to be the perfect candy! recipe can be found at
love veggies & yoga
.
mmmmmmmmm!
so how was your halloween? did you get any trick-or-treaters? we got 3 groups of kids. so cute! we are thinking of taking hannah to a few houses next year, should be fun :)